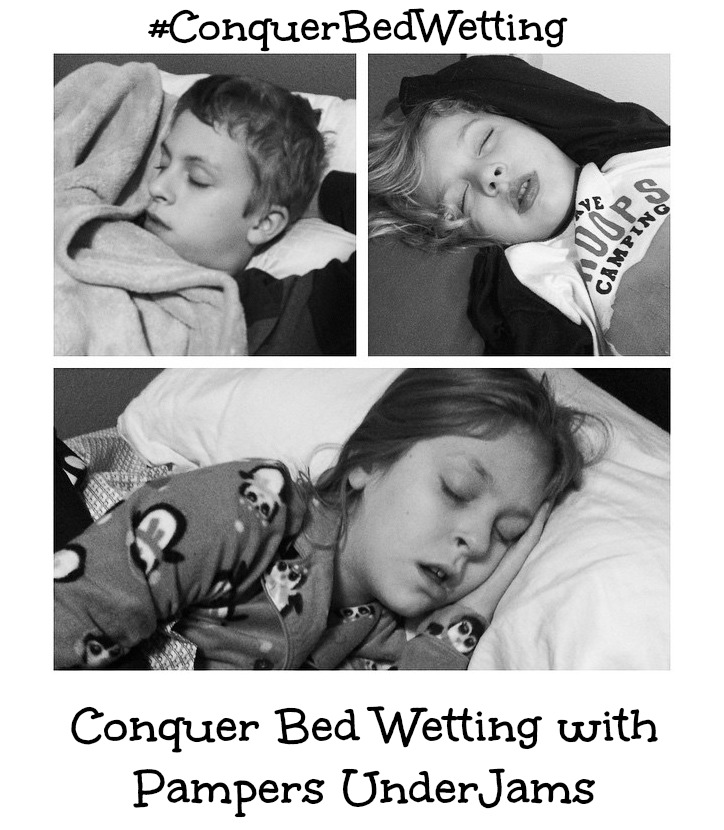 I know you may all be wondering what I am doing writing about Enuresis (bed wetting) when my children are older, but my case is not a typical. I have three kids (pictured above) so I may be what some consider as a veteran to the potty training game. All three of my kids got potty training down in their own way and at different ages. My youngest seemed to be the easiest. It was literally as if he woke up one day and was done with wearing diapers and never wet again. Who knows maybe it was a third times the charm type of deal. I like to say it's his determined personality.
My daughter was also fairly easy to potty train. It took a few months but once it clicked with her she never let it go. She is my emotional child and even at the young age of two, she would be herself up over having an accident. She didn't like feeling like a "failure" and that for my ex husband and I was our biggest struggle. Helping her understand it was not something she failed at.
Now my oldest….he's the reason I wanted to write about this topic. He is now eleven years old and has been potty trained since he was about three. It was a difficult process going through potty training with him. I think part of the reason was we moved around so lot while he was younger and the constant change of home affected him in more ways than one. He used to have night terrors which would inevitably lead to regression. Then we would move and he would regress. We would go for periods of six months of completely dry, no accidents at night at all, and then he would wet the bed every night for two weeks.
This has been a consistent patter for a few years now. It's not something he really likes to talk about much so I am here to be his voice. One of our biggest struggles was making the decision to continue keeping him in underwear at night or moving him back to a night time diaper of sorts to help him. It was something I didn't want him to be ashamed of but I also didn't want him to feel like he had failed. He is such a deep sleeper he would sleep through what the rest of us would wake up from. Whether it be the need to use the restroom or a storm outside. When he is out, he is out. I have also read that it may or may not be associated with bowel movements. How frequently your child takes them, or more importantly how infrequently.
Making the decision to go ahead and put him in some sort of night time protection was one I wouldn't take back. Not only did it help his peace of mind but it helped mine as well. Know that he wont get down on himself for having an accident was a relief but it made morning times a little easier as we weren't having to do laundry every morning on his bad weeks. I think the decision to use night time protection is not something we alone face. I am sure that many parents struggle with the idea of "taking a step backwards". I don't believe it should be looked at it like that anymore, I believe if it something that can help not only your child but yourself it could be a wonderful option. I wish they had Pampers UnderJams eight years ago when we first started going through this. One of the biggest things we ran in to while trying to find some type of protection for my son was finding them in his size. He is by no means a big kid, he is my lean machine as I call him but he is tall. The very first thing I noticed about UnderJams was that they start in a bigger size, size small/medium fits from 38-65 pounds and size large fits 58-65 pounds. UnderJams also offer these benefits:
Night wear leakage protection that features a NightLock ultra-absorbent core.

ComfortWear quiet, cloth-like materials for privacy.

Low waist so only your child knows they are wearing them!
With Pampers UnderJams you and your babies (totally not trying to confuse you all, it's just that it doesn't matter that he is eleven, he will forever be my baby and I still call him that every day) sleep with the peace of mind in knowing that even if enuresis were to happen…it is okay!
Also I did want to bring notice to the Pampers UnderJams site. They have a lot of useful tools, tips and educational information regarding enuresis there that might be helpful for you and your child in conquering bed wetting.
Have you and your child experienced enuresis? How did you guys conquer it together? I would love to hear your stories and thoughts on helping your children through this stage.