Don't you just love when you've cleaned the kids toys up only to end up finding them everywhere five minutes later? Yeah, me neither. Especially when said toys are Legos, Littlest Pet Shop or really any tiny little toy that the kids seem to get a lot of.
Wouldn't it be awesome if there was some type of mat out there that kept toys inside a contained area yet still allowed for kids to play with them? And when the kids were done playing then you could just pick up the mat and it would become like a bag so all the toys were still contained and all set up to be easily put away? Sound too good to be true? At first I thought so but guess what people….it's not! The thing that sticks out to me the most about the Lay N Go is that it is a Mom-invented product. Amy Fazackerley created the
Lay N Go
and she does all of work to make and distribute it all on her own. I bow to thee Amy, you are amazing.
This is the
Lay N Go Lite
. It's an 18 inch mini activity mat that converts into a carrying bag. It closes with a nylon cord, the cord locks with a closing system that you have to press down on to close and open which keeps small toys inside so you have no worries of it opening and toys falling all over the place. One thing I really like about this product is how easy it is to use, not only for me to do for my children but my children can also do it themselves. They can bring it in the car, a restaurant, a friends house or even just to play at the kitchen table. There is even a little Velcro storage pocket on the front so you can store the drawstring when closing or carrying the bag. My daughter likes to keep the drawstring out and carry it as a "purse". And it's reversible!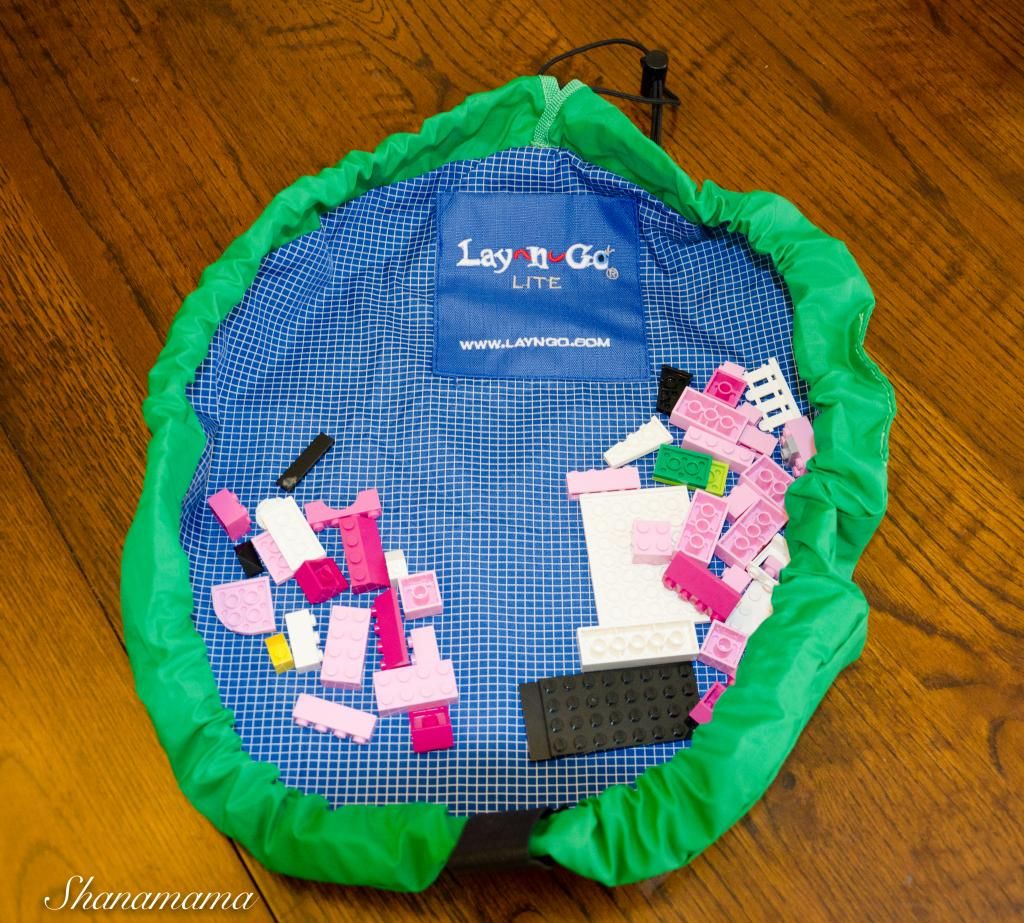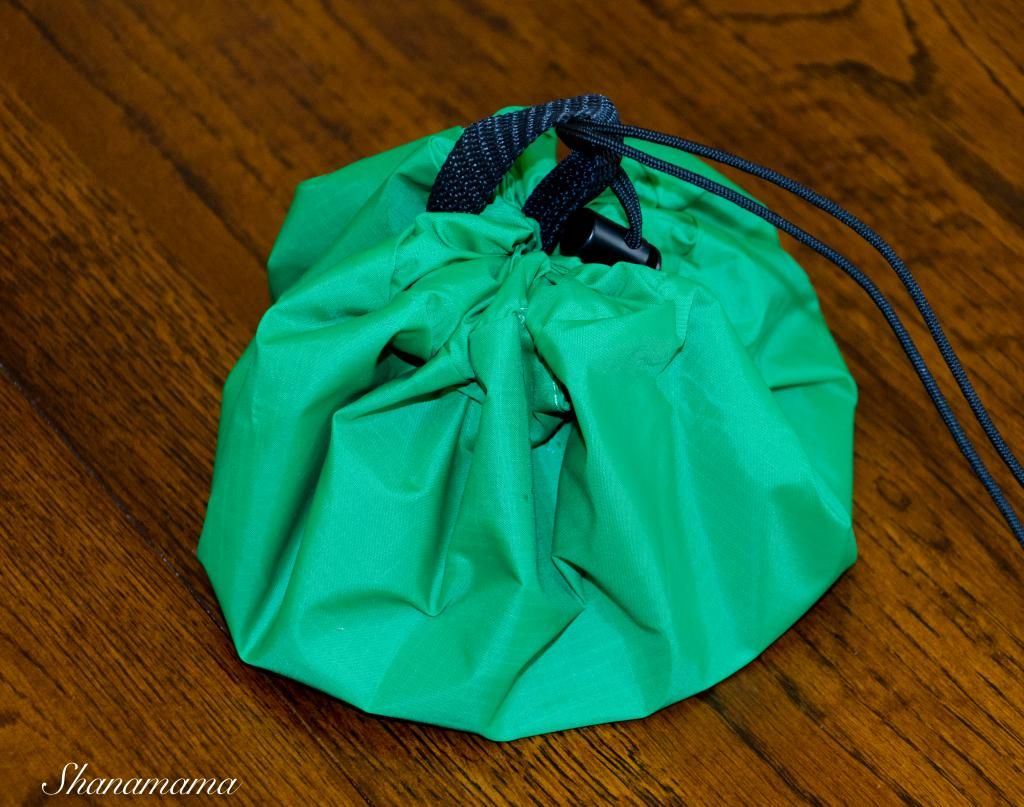 This is usually how things start out when the kids pull out the Legos….

The next picture would have been my entire table covered with Legos and the floor around the table and I'm sure there would somehow be some in the kitchen. I don't know how it happens, it's like they have legs and just go everywhere. But guess what, no more! This was how it went down last time. My daughter and I picked out a handful of Legos from her Lego box and placed them in her
Lay N Go
. She spent hours playing this way and when she was done there was no mess all over the table or on the floor. It was all contained in the same space as when she started playing. Inside the
Lay N Go
. Can I tell you how awesome it is not to have to clean up under the table and not have to worry about stepping on Legos every.single.time they play with them.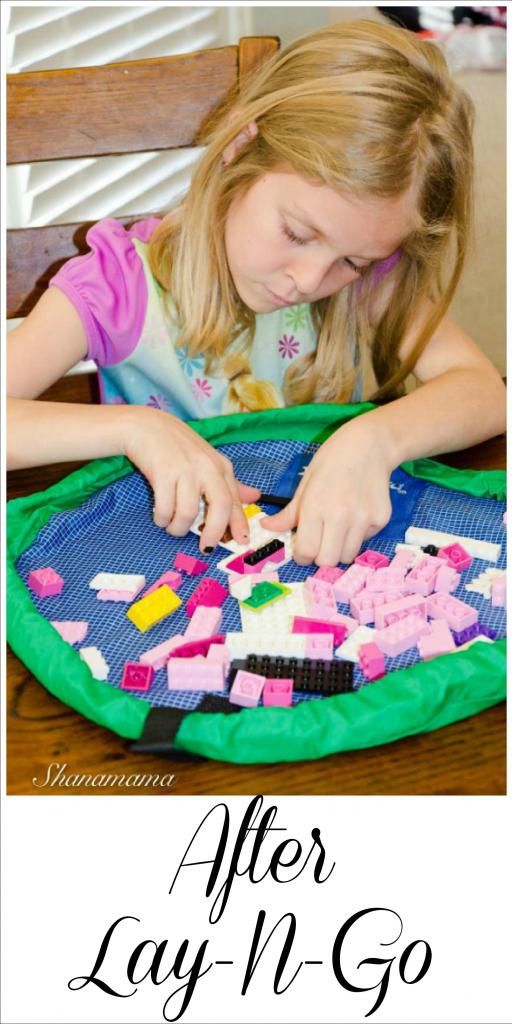 When picking out our
Lay-N-Go
I went with a neutral color in hopes that all of the kids would use it. Since having it here and seeing that in fact all of my do kids enjoy using it I am tempted to get each of the kids their own for the holidays. While the Lay N Go Lite is only offered in five colors (blue, green, orange, red and pink) the original Lay N  Go is also offered in the same colors. Me personally, I want the pink. What can I say, I am a sucker for any and all things pink.

Right now Lay N Go is having a giveaway and it is an awesome one. They are giving away a Holiday Giveaway pack. In this gift pack of pure awesome there will be (1) Large Blue Lay-n-Go, (1) LITE Blue Lay-n-Go (1) Black Lay-n-Go COMSO, a gift card to Sephora and a "surprise" set of tiny toy pieces (hmmmm Legos maybe?) The total retail value of this giveaway is over $200.00! See I told you, awesome. Be sure to enter today as the contest only runs through December 15, 2012
https://www.facebook.com/layandgo/app_201143516562748
And for you, my awesome and loyal readers I get to give away a Lay N Go Lite in blue to one of you! Giveaway is open to the US only and ends on December 12, 2012 at 11:59pm. I will email the winner and they have 48 hours to respond. Good luck everyone!
There are two ways to enter. Please do the mandatory entry first in order for your second entry to count.
Mandatory Entry: Who would you like to win this for and why?
Extra Entry: Tweet about the giveaway. Sample tweet:
"I just entered to win a Lay N Go Lite by @LayNGo from @Shanamama9197 You too can enter to #win http://bit.ly/VFYpMi"
Please leave a link to your tweet so I can verify your entry
 *I was provided a Lay N Go Lite for review. I was not compensated for this review. All opinions stated above are solely my own.*