This post is sponsored by FitFluential LLC on behalf of Koss.
One thing I've always struggled when listening to music with earbuds, especially while I exercise is keeping them in. I have what we shall call odd shaped ear canals. One is actually smaller then the other and the other is slightly turned. I may have just revealed way too much information about me and it's totally gross I know, but hey it makes me unique. On the downside finding ear buds that fit me is not as easy as it is for others. Recently I was introduced to Koss and I will try not to gush too much but it will be hard because I am in love!
First let me introduce you to the FitBuds. They are offered in five different colors, purple, blue, coral (pictured below), lime and mint.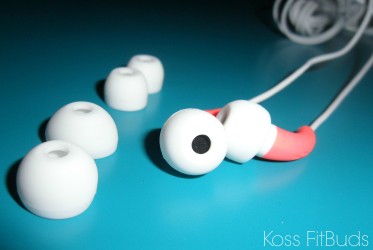 They are 33% smaller than any other earbud Koss has ever created. They are also sweat resistant and the elements are completely surrounded by a dual-injected, soft-rubberized housing so they will fit perfectly in the female ear. Each set of FitBuds also comes with three different sizes of ear cushions so you can pick and choose your perfect fit.
And these are the FitClips.
These are also available in the same colors as the FitBuds. The main difference between the two is the flexible over the ear design which allows you to "clip" the buds to your ear. They too are also 33% smaller, sweat resistant and also come with three different sizes of ear cushions so you can pick and choose your perfect fit.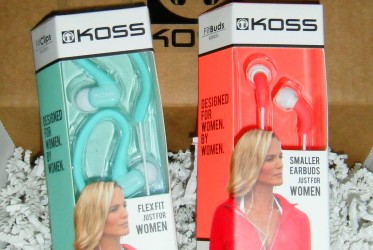 I am still trying to figure out which one I love more and honestly? It's a hard decision. They are both awesome and I keep rotating between the two. I've even worn them while cleaning the house (which I may or may not do some dancing while I clean) and they didn't fall out a single time.
If you are in the market for a new pair of earbuds, are an active woman, or looking for a present for the active woman in your life, you should definitely check out Koss FitClips and FitBuds. Right now you can snag yourself a pair of Koss FitBuds and/or the FitClips for $19.99 for the holidays at retailers such as Best Buy, Wal-Mart, Walgreens, Sears, and Kmart. But be quick, after the holidays they will go back to their regular price of $29.99. I plan on picking up a pair for my sister who is the runner in my family.
If you'd like to learn more about Koss be sure to check out their Facebook, Twitter, Instagram and Pinterest pages.