Good morning everyone and happy Saturday! I am currently sitting here devouring my fourth cup of coffee, doing work and watching Blue's Clue's (yeah I watch cartoons and multitask like a pro, that's how I roll) with my little man I'm thinking how the sight of me earlier this morning was a little hilarious. Well actually no one knew any better so to everyone else it's not be funny at all, but here's the thing, we all do things that we try to pull off as normal but only we know the secret right? And that got me thinking what if I were to spill those secrets, wouldn't it be funny? Would others join me? And thus Shameless Saturday was born
If I have confused you don't worry, it's something I excel at. Heck I even do it to myself sometimes. So I'll give you an example by spilling my Shameless Saturday. The first of many to come cause let's face it, I'm not Mary Poppins perfect (despite me telling people I am) and dude sometimes when I haven't had my coffee my head just isn't in the game yo. Okay enough rambling, let's get on with it. Dun dun dun….I give you Shameless Saturday!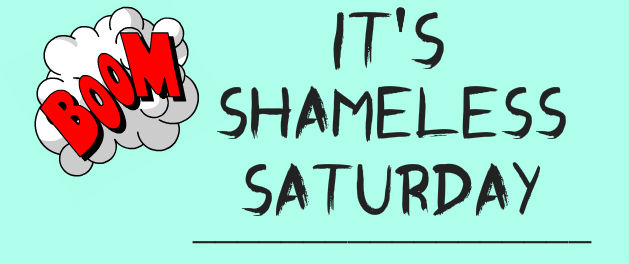 At one o'clock a.m. my phone rang. It was my ex. He informed me he forgot a few necessary items at the house and was wondering if I would take our oldest to the airport so he could come spend the weekend with him and bring the things he forgot. Sure, I say no problem. Yeah 4:30 wake up call comes quickly so being half dead asleep I pack a bag for my oldest, grab the scripts, iPad, toothbrush, gosh I hope I didn't forget anything. Wake the boys up, get them dressed, brush their teeth, do my makeup, brush my hair, grab a huge cup of coffee and we're outie! It wasn't until about the halfway point that I realized dude, your breath stinks. Well that's odd, I brushed my…oh wait, that's right. I totally forgot to do that. Brownie point for me! As if that wasn't cool enough I totally put on the clothes I wore the day before. Even the socks. Yup I did it. Now while everyone who saw me thought I looked awesome and cute for 5am (cause that's what I told myself) I on the other hand knew dude, you're rocking yesterdays outfit and your breath is worse then a dragons right now.
Seven hours later I still haven't brushed my teeth, instead I have made another pot of coffee and changed my clothes and typed this here awesome post to share with the world just how awesome I really am. High five!
I hope you will join in with me in sharing some of your shameless moments and know that we've all had them. Be sure to link up, grab a cup of coffee and enjoy in the awesomeness that is life. Now I am off to go brush my teeth.