For a while now I've seen all these quinoa recipes and I have wondered what the deal with it is. Is it healthy, is it a pasta, a rice, what exactly is quinoa? After some research I've discovered it's neither rice nor a pasta. It's actually a seed, well the part we is the seed. Who knew? Not me until doing some reading up on the food. I also found out for about a year I had been pronouncing it wrong….ooops. The correct pronunciation of quinoa is like keen-wah. And just like that I became annoyed by those that mispronounce it, as if I was some kind of expert. If an expert is someone that has eaten their weight in quinoa then count me in. I may or may not have done this in the last year.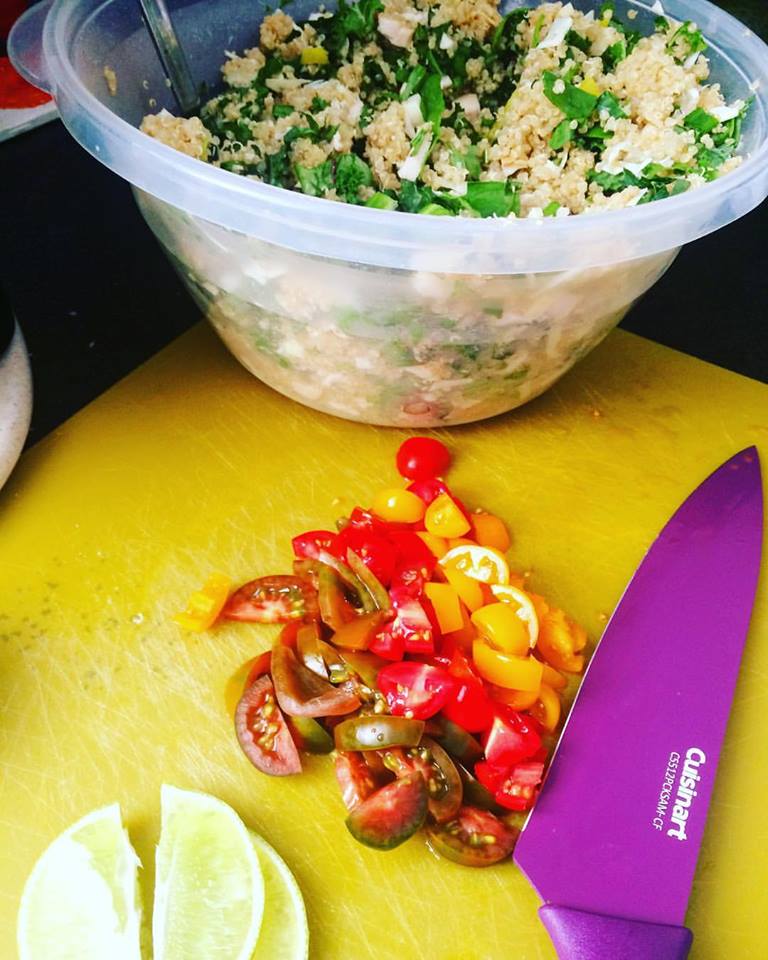 Anywho, back on topic. Let's examine this beautiful little plant. If you haven't googled quinoa I suggest you do. You will be amazed at the beauty of the plant. Quinoa is a plant that is considered a complete grain. By that I mean that it is has all nine essential amino acids. Did you also know that it is said that quinoa is said to have health benefits such as reducing the risk of obesity, colon cancer, high blood pressure and type 2 diabetes. So maybe eating this little seed quite often could be a good thing.
Since quinoa has a bit of a nutty flavor it is something that can be used in a wide variety of recipes. You can use it in breakfast recipes, salads, dinners and even baking such as muffins. For my household we love to use it in salads. Speaking of salads, I wrote this post to share my favorite salad and here I have been rambling on all the wonderful things about quinoa. Without further delay, I give to you Mexican Quinoa Salad.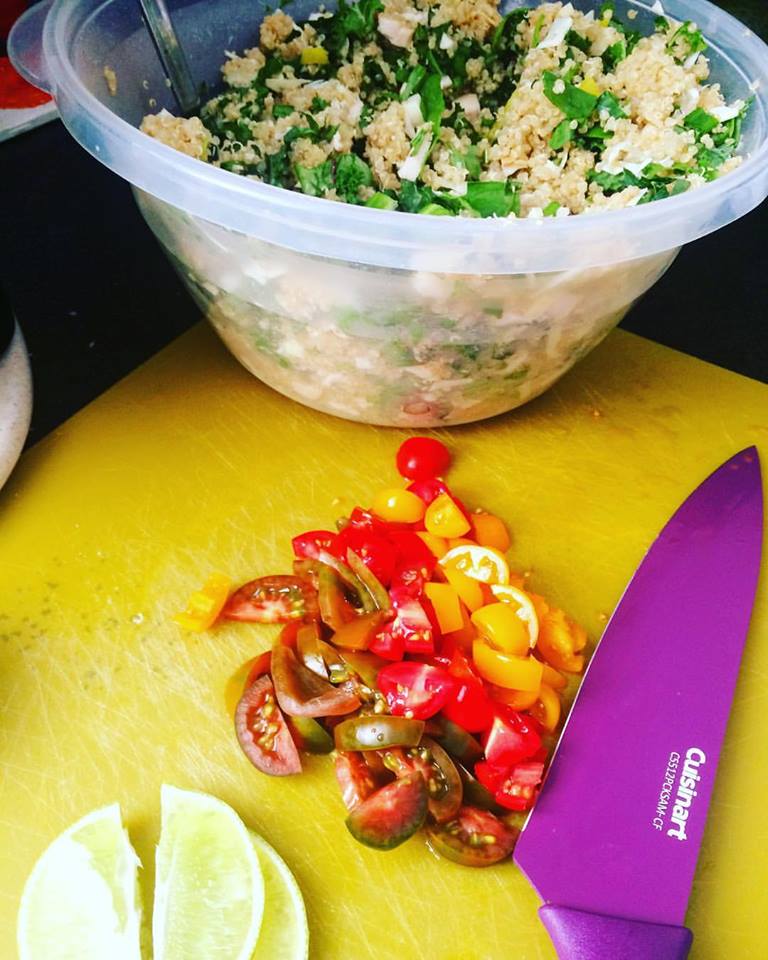 Mexican Quinoa Salad
2017-01-15 17:21:05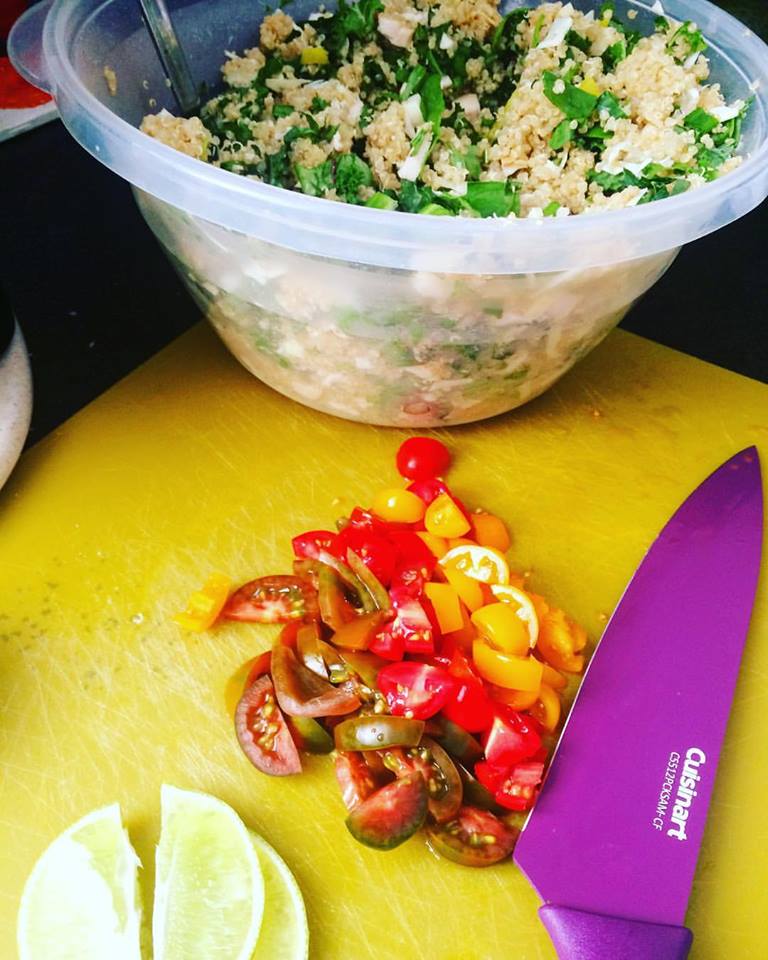 Serves 6
A delicious quinoa salad with a Mexican twist
Ingredients
1 cup Quinoa
3 cups kale chopped
1 cup Arugula chopped
1 cup Spinach chopped
1/2-1 cup of Tomato varieties chopped
2 Hearts of palm chopped
1 Lime
6 stalks of Green onions chopped
1/2 cups of thinly sliced green cabbage
1 Avocado chopped
Guacamole salsa (Herdez brand)
Pepita's
1 Vegetable bouillon cube
Instructions
Combine one cup rinsed quinoa in two of cups water with a vegetable bouillon and bring to a boil. Cook approximately five minutes. Once it is done you will be able to fluff if with a fork. Place in the fridge inside an extra large mixing bowl to cool.
While the quinoa is cooking start prepping all of your other ingredients, kale, arugula, spinach, hearts of palm, tomatoes, cabbage. Save the avocado until very last as it will brown.
Mix all of the chopped ingredients in with the now cooled quinoa. If you aren't planning on eating all of the quinoa you can save the tomato and avocado till as needed. Squeeze the juice from one lime all over the salad and mix. If you're not a fan of lime use 1/4 to 1/2 as opposed to the whole thing. If you're serving a group then add both the tomato and avocado in as well as the salsa.
To keep the quinoa good for a longer time period do not add the salsa but just a bit on top of each serving.
Notes
Depending on your level for the love of all things spicy, the guacamole salsa may be a bit spicy sooooo go easy at first with how much you put on. Me, I love spicy foods so the more the merrier.
Shanamama https://www.shanamama.com/wp/